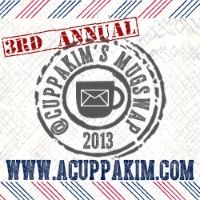 If you read my earlier post then you have heard mention made of the recent MugSwap held by ACuppaKim (#mugswap2013). This was my second year participating and as much as I love being on the receiving end of the swap and anxiously awaiting a surprise in the mailbox, I find it just as much fun ((if not more)) to gain a new friend and search for what I "hope" is the perfect little surprise for them.
My assignment was Melissa from
http://melissacamarawilkins.com/blog/
. I instantly fell in love with Melissa's style on Pinterest and adored so much about her blog. The e-mail from ACuppaKim said Melissa would call her style "preppy boho," and she preferred a tea cup - honestly, I feel like I failed miserably at finding preppy boho! I am a coffee drinker myself, so searching out
any
teacup was new territory to me. Really, what a fun assignment to have....it opened my eyes - there were indeed so many beautiful teacups at the antique stores I visited. I thought I might never be able to choose!
I opted for a classic look...simple elegance I suppose you could say. I liked that it was timeless. I included a little journal and one of my favorite pencils.
I was N E R V O U S until Melissa confirmed the sweet teacup had arrived safely! Thank you bubble wrap and thank you flirty mailman who laughed at me and added "exceptionally fragile" to the side of this box with his Sharpie ;) I'm thankful that the swap introduced me to Melissa and look forward to reading her blog from time to time. She's a busy Mom, but in the good busy-kinda way....busy loving and appreciating, listening and teaching - she's already inspired me and I look forward to more of that goodness.
I have always loved coffee mugs. My parents will tell you that I had a thing for buying them from an early age....long before I had ever tasted coffee! I adore a good collection and looking at the photos on Instagram from the mugswap will certainly want to make you have a mug collection! What a treat it was for a "secret swapper" to receive my name and find a mug that is so perfect - I'm thinking it just might provoke me to take this "mug collecting" a little more serious! ((I need some sort of display for all this goodness, people!)) Pollyanna, over at
http://sewfatty.com/
, read of my love for vintage and my recent move.....she really hit it out of the park with this mug!
Pollyanna loves Instagram as I do and it is great seeing her comments and sweet photos while knowing what thought she put into selecting my mug ((and some other coffee & tea goodies she shipped as well)).
Another year that the MugSwap has come and gone......more sweet memories added and inspiration given. I think it not only spurred my interest in collecting more mugs, but it reminded me of how good it feels to give.
Oh, and if you're wondering about the prize package I won - lots of that goodness has been showing up in my mailbox! Pictures of it all forthcoming! Feel free to checkout the sponsors over at
http://www.acuppakim.com/
and mark your calendars for August 1, 2014 for #mugswap2014 !
-K.